We are born to think, Innovate, and grow. Creating a new business mobile app means putting your ideas into action. The innovative app development idea is not an easy task.
I.e. Technology itself is an idea of someone.
The ideas are born out of needs. When the world is awash with problems and needs, in the mobility dominating the world. A mobile app idea that can fulfill the demand is an ideal solution.
In this article, we summarise 17 different mobile app Ideas that will outperform others in 2022 and beyond.
We will answer how are apps going to use 5G? And how advanced computing capabilities can drive the growth of mobile applications in the future.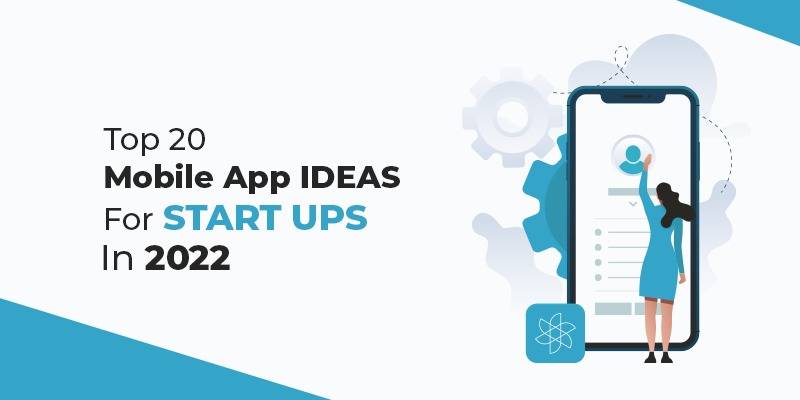 "Mobile app development in 2022 is going to be much bigger and faster"
Despite the much criticization. The pandemic era has done its part of being the required fuel to the increasing trust in smartphones, in the last two years. The Edtech and on-demand industries were among the top gainers in the corona period.
As they brought new ideas to life. They were quite successful in changing the attitude of societies towards mobile apps in general.
Why make a mobile app, Why not create a website?
Focusing on customer convenience never goes out of style. And that's how businesses get their deserved rewards. When user-centric mobile apps deliver more than websites. You are in the winning zone when you are only considering the common goals first. And convenience is at the top of the list.
"Investing in a mobile application seems to be an obvious choice in 2022 and beyond."_ J. Buch, tech reader
Mobile application is a trending way, businesses can find and reach their potential customers. With everyone in the younger generation has a smartphone. Convenience, speed, and ease of access are the three mantras of success in the mobile application world. Yet, to find it out and make it simple for the audience is bliss.
Now let's make it straight and find out what are the top business mobile app ideas inspired millions out there to start their own. Little learnings from the story and a lot of inspiration from the idea.

1. Mobile Payments app- Customized mobile applications for restaurants and retail businesses
Mobile devices or smartphones had always had the impact of being an esteemed innovation of technology. And when it comes to fintech, they tend to deliver more. Tech pioneers investing in payment through mobile ideas. And it is revolutionizing the way things have been working till now.
Based on the Unified Payments Interface (UPI) where money is sent or received through this real-time payment system. Popular for safe and hassle-free money transfers, the mobile payment app market is on rising.
Top Features to have
Peer to Peer Payments
One app for all UPI payments.
Safe and Instant Payments
POS Integration
Multilayered Protection from fraud
Seamless Access to e-wallets
What Experts say about Mobile Payments Apps
India's mobile payments market is estimated to be worth $1 trillion by 2023_ Credit Suisse.
All in all, the future looks promising and holds great benefits for both users and providers._ Ravi B. Goyal, AGS Transact Technologies Ltd.
Leaders in the Mobile Payments App Sector
GPay or Google Pay_ Owned by google
Play store rating: 4.2/5 Stars
Downloads: +500 million
Available on: Android, iOS, Windows
Phone pay- Supported by Flipkart
Play store rating: 4./5 Stars
Downloads: +100 million
Available on: Android, iOS, Windows
2. Delivery Application for Mobile - Food delivery, grocery, and medicine delivery app
The on-demand delivery market has seen significant growth over the past five years. As covid-19 propelled the industry a few years into the future. On-demand apps enjoyed a different kind of rise as millions of people in lockdown ordered food online for the first time and there were quite a few options.
There are countless on-demand apps started in 2020-21, and 2022 looks to be the same. So app creation in this category would demand more creativity and wisdom to find the right need and attract a user base.
Leaders in the segment
Zomato
Play store rating: 4.3/5 Stars
Downloads: +100 million
Available on: Android, iOS, Windows
Pharmacy
Play store rating: 4.5/5 Stars
Downloads: +100 million
Available on: Android, iOS, Windows
3. Video editing and sharing app
Videos are an excellent medium to convey and communicate with people. Millennials are busy making money out of their well-edited videos. And to compromise on the editing features is a no-no for an app developer in this category. The users keep looking for alternatives with more features and tricks that can increase their views and followers. With TikTok and Instagram reels not being the only medium for video sharing. The market is more versatile and open to new members.
"Creating and launching a video editing and sharing mobile application will reap big rewards in 2022 and beyond."_ Social statistics

4. Travel Planning and hotel booking app + flight booking + 360* VR traveling experience
Staying in homes was an important but exhausting experience. We all wanna go out now. But planning a trip on your own is no picnic. It is a complex job, and those flight reservations and hotel bookings are often only the starts of it.
A travel planning app Idea that can plan vacations and take the stress out of things. That too, without any bustle while ensuring safety is what we all are desperate for. This is the right time to develop a mobile app that provides hotel booking, travel planning, and virtual reality experiences in a single app. It should stay at the top of people's minds for a long time.
5. Insurance app - Bike, car, health and life insurance and renewal
Going mobile in insurance could be a bold step for a startup. As the world moves towards driverless cars and digital doctors. Investing in health and happiness with an insurance app that covers emergency needs 24x7, without making you wait in ques. It's the dream app people have long been wanting. No?
With the number of groundbreaking insurance apps ideas that help users efficiently manage bills and claims, renewal and service. There's still room for improvement. Even top agents today prioritize financial mobile app development which is easy to access, affordable, and local.
Top features to have
AI and ML-based technology to save time and money on (AI chatbot)
Quick Inventory feature that helps end customers catalog personal property in record time.
Set up one-time payments.
Customized UI- Exactly what your users want
6. Parking app
With increasing traffic and number of cars. Availability of parking spaces is becoming scarce. The fight for finding vacant spots is real. With people wasting hours looking for empty spaces. This matter is of high concern and demands immediate resolution.
A mobile app for car parking is the best solution in this case. In the rising global smart parking market. These challenges are boosting demands for more robust parking mobile applications to develop. An app could help millions out there missing appointments, classes, meetings merely because of parking space.
"Hence, talking about the global smart parking market, its expected growth is some 3.8 billion by 2023, at a CAGR of 14 percent."
7. Dating App or Matchmaking App
What is it like to find your better half online with a dating mobile? But 39% of people indeed find their significant others online. A study states that adults are most likely to meet their partners through a dating app like Tinder or a website like match.com.
Does it make sense to build a dating app in 2022?
Believe it not, the obsession of the younger generation with dating and matchmaking mobile applications is on an all-time high. The pandemic forced all romantic meetings to move online, and they aren't going anywhere. They are there day/night looking for their soul mates online.
But there are still people looking for options. If you've been considering creating a dating app, now is the time.
Tinder- a dating app that matches users based on their favorite activities.
Play store rating: 3.3/5 Stars
Downloads: +100 million
Available on: Android, iOS, Windows
Happen - Exacting, exclusive dating application for high-end daters
Play store rating: 3.9/5 Stars
Downloads: +100 million
Available on: Android, iOS, Windows
8. Music store and Podcast Creating application
Music could be that dreamy way of starting your business. And why not? People love listing to music. An app that can offer an uninterrupted and soulful listing experience deserves to be at the top of the chart.
And, podcasts are engaging episodic series. Often packed with important information. Podcasts are for startups that strive to provide cutting-edge features for creators and listeners. Safe to say that creating a music and podcast creation app is a secure money-making business app idea for entrepreneurs in 2022.

9. OTT app (Over the top entertainment mobile app)
As we enter 2021, we see that OTT platforms have now become a larger part of our lives than they ever were before. OTT media service platforms have become popular in the last few years. And covid era was just the required boost.
The pandemic had a significant impact on online streaming trends, and the demand for over-the-top (OTT). Due to which many filmmakers release their movies on major OTT platforms, instead of waiting for the theatres to re-open.
You can consider collaborating with the global movement of video streaming entrepreneurs. By creating an ott mobile app for your business. But your success as an OTT content creator greatly depends on the platform you choose.
Netflix
Play store rating: 4.3/5 Stars
Downloads: +100 Million
Available on: Android, iOS, Windows
Amazon Prime Video
Play store rating: 4.6/5 Stars
Downloads: +100 Million
Available on: Android, iOS, Windows
Disney+ Hotstar
Play store rating: 4.4/5 Stars
Downloads: +1000 Million
Available on: Android, iOS, Windows
10. Health & Fitness Monitoring and learning App
The mobile app market is becoming smart. With health & fitness be the topmost concerned topic in corona time. Making it to the top of the list even before climate change or water shortage. We are now witnessing people jogging, running, and cycling wearing smartwatches and bands operated by the tiny but powerful apps.
Health and fitness mobile apps were the best used to detect asymptomatic and presymptomatic covid-19 cases amidst the global COVID-19 pandemic. Wearable devices and smartwatches which track physiological data. It can provide early warnings of health deviations from a person's baseline. Building an application that would send alarm beeps whenever you need to take your medicine is one of the simplest but useful app ideas.
"According to Statista, there will be 1.1 billion connected wearables in 2022"
11. Exam and online study and online classes app and finder app
The COVID-19 pandemic is proving to be a good time to use online studies to aid in patient triage and assessment. Students can now use an AI-powered Edtech mobile app to help in their online study. With features like a live recording of the class, doubt clarifications, and syllabus checker system.
Virtually every sector of our COVID-riddled society is undergoing a trend of going remote, and education is not an exception. A new application for ed-tech is likely to be well received by users looking for affordable alternatives.
"This lucrative investment niche brought in an astounding $6.5 billion in the last two years"
12. E-book Reader App
Checking all the necessary boxes can get your e-book reader app amongst the top leaders in the industry. With Ebook Reader apps like Bookmate, Amazon Kindle, Scribd, ebook, FBReader, and others. But before that finding your niche and target audience is crucial before for a successful eBook Reader application. You can create mobile book libraries for kindergarten children, non-fiction and education spheres, fiction genres, authors, countries, and ages.
Generally, eBooks and digital content are the easiest to access. That's why ebooks and audiobooks are so popular today. Even though pirating books is a challenge that everyone has to deal with, localizing your app in your native language will help you attract your desired users.
The ebook reader app should also include features:
Book navigation via the table of contents, search by word, progress bar
Bookmarks
Highlights and notes
Dictionary
Font adjustment: size, color, typeface
Though you may not have started out with the idea of making an eBook to earn money. But you can create your own eBook app only for popular mobile app platforms such as Android and iOS. Along with other marketing tactics, In-app purchases enabled within the app, long-term revenue will be generated without any hassle.
Best Ebook reader app on the popular platforms
Amazon Kindle - Read eBooks, comics & more
Play store rating: 4.7/5 Stars
Downloads: +100 Million
Available on: Android, iOS, Windows
Google Play Books & Audiobooks
Play store rating: 4.1/5 Stars
Downloads: +100 Million
Available on: Android, iOS, Windows
13. Charity and Donation app
This should be one of the top apps on the list of great mobile app ideas. Food and resources shouldn't be wasted any longer with a growing population. People often throw away leftover food after events or even normal meals. Restaurants, hotels, food stores, and weddings throw away a lot of food.
A food donation app is just one of the unique and new ideas that can help solve this problem. It will ease the connection between food donors and collecting organizations. In the app store, food apps generate the highest digital revenue. result in a higher acceptance of new mobile application development.

14. Job search app
The Covid-19 pandemic wave has destroyed various brands and businesses, leaving people jobless. An app that offers working flexibility to a large number of people around the world might be a great idea.
Employers and job seekers can come together on a common platform and offer help in the best way possible. Various businesses looking for employees on a contract basis or for specific hours. can be listed on your website, creating many potential job opportunities. On the other hand, you can let employees filter positions according to skillset, experience and knowledge, and ability to work remotely.
15. Betting App
The online gaming market in India is no longer a non-regulated body with everything being legal and licensed. The market is being loved by the users and the big companies looking to enrich the love of the betting experience of players. Offering mobile app for gambling and betting on your favorite sport.
We are offering the best features for startups looking to invest in mobile betting and gambling app. It's the best time for you to benefit from the current trends. Also, test the top betting apps with real user reviews to crown the best betting apps in a variety of categories such as the most popular app, the best cricket app, and the app with the best odds.
Apart from that, there are many features and functionalities that you wouldn't expect to find in a regular betting application. The mobile apps we provide are well-designed, developed, and tested to bring you the joy of sports betting.
Categories to be added
Horseracing Betting App Development
Cricket Betting App Development
Soccer Betting App Development
You can rely on Dev Technosys and our team of experienced app developers for the development of high-quality sports betting and fantasy app solutions. Easy withdrawal options such, crypto and wallet deposits are quite popular amongst the latest generations which can be added to the app as well.
Sports Betting Game - BETUP
Play store rating: 4.0/5 Stars
Downloads: +50 Million
Available on: Android, iOS, Windows
BETWAY Sports+Games
Play store rating: 4.1/5 Stars
Downloads: +50 Million
Available on: Android, iOS, Windows
16. Consultation app ( with the doctor, lawyer, engineer, designers)
With people not leaving homes, going to the hospital has its risks. So, meetings are rarely happening. Even for emergencies, we choose to stay at home. But with Mhealth becoming a crucial tool for doctors and patients.
We need more apps that can offer low-cost consultation services with professionals within an app. As it is more convenient and safer to consult at home. You can start with developing applications offering such features. Start with either online consultation or offline appointment booking. Any of the above doesn't seem to be a bad idea.
For, example. DocsApp and Netmeds offer doctor consultations. While 1mg offers free audio consultations.

17. Finance, TAX, bill & invoice management app
The primary role of a tax consultant mobile app or tax adviser mobile app is to help businesses with taxes and finance. Now businesses can plan or even manage their investment portfolio. Make the right financial decisions and stay worry-free. While Ensuring peace of mind
Managing taxes, filing returns, and setting up one-time invoice payments are amongst the top features.
18. Share market learning and Investing app
Nowadays, if you run a stock trading business or invest up in stock. You will need to be up-to-date with every minute change in the market.
With market uncertainties. Monitoring the rise and fall of the stocks daily can be beneficial, even at times hourly for investors, if needed.
High-speed internet and efficient mobile apps have made life for traders simple, fast, and efficient. Trading apps help traders stay informed all the time. Everything is now possible to do from your mobile apps for stock investing and trading. Includes checking the stock price in real-time, creating a virtual portfolio, drawing stock charts, following market trends, and tracking your portfolio.
Features to Have
Ease of Use: Stocks, commodities, news, indices, mutual funds, etc.
Latest Market Data: Latest quotes of stocks, F&O, mutual funds, commodities, currencies from BSE, NSE, MCX, and NCDEX
Reports: News related to markets, business, and economy, interviews of senior management
Portfolio: Monitoring portfolio of Stocks, Mutual Funds, ULIPs, and Bullion.
Timely updates: Updates on the performance of your portfolio, and news & alerts relating to stocks you hold
Leaders in the Market
Play store rating: 4.3/5 Stars
Downloads: +50 Million
Available on: Android, iOS, Windows
Upstox - Stocks, Mutual Funds & IPOs
Play store rating: 4.4/5 Stars
Downloads: +50 Million
Available on: Android, iOS, Windows

19. Deal Coupon app
Users shop a lot on e-commerce websites like Flipkart and Amazon as more and more things go online. They search for discount codes for the products they want to purchase online. Companies offer coupons, rewards, and cashback to frequent shoppers. Unlike the old paper coupon marketing, coupon apps make it easy to find, save, and use digital coupon codes and physical coupons.
Coupon apps or digital coupon finder apps are working just fine in the market because app-based promotions and digital coupons are quick and effective marketing strategies to attract new customers. Make them easily redeemable opportunities at dozens, hundreds, or thousands of retailers.
Daily Deals and Discount Coupons Application gives mobile phone users a better, convenient, and more affordable way of shopping. Along with all the aspects necessary to develop a coupon app. When it comes to budget-friendly apps, then it is a rising trend among people worldwide as per google data. You can start with a small team of developers until you get all aspects ready at the back.
Read this before developing a Deal coupon app
This is a cost-effective solution.
Exposes users to every deal and advertising opportunity for marketers
Provides users insights for reasonable prices daily with in-app notifications
Coupons are easy to use and redeem at affiliate stores
Reduces the cost of shopping and makes it more enjoyable for frequent buyers
Best Deal coupon apps in business
CashKaro- Cashbacks, Coupons & Deals
Play store rating: 3.7/5 Stars
Downloads: +10 Million
Available on: Android, iOS, Windows
WHAT'S NEW
* Personalized Offers
* Store Pages Revamp
GrabOn -Travel, Medicine, Food Coupons & Deals
Play store rating: 4.2/5 Stars
Downloads: +5 Million
Available on: Android, iOS, Windows
20. Social sharing Apps
As a startup, social media mobile applications don't consider profitable ideas in the early stages. The niche of social media is one of the most promising markets that offer higher revenue and data generation opportunities.
This segment is costly and densely occupied with dominant players. like Facebook, Twitter, etc. The only hope we see is the rapid development of technology, opening up new opportunities for the realization of new ideas.
The dominance of mobile apps in 2021-22 and 5G Impact
Building a mobile app is the talk of the present and advanced future. Way ahead of traditional marketing, a mobile application saves a lot of effort for entrepreneurs to get started with their big Idea.
"In 2021 alone, around 200 billion mobile apps have been downloaded on the Google Play Store, with 42 billion more on the Apple App Store"
The 5G Impact
Mobile connectivity is about to undergo its 5th generation. It will transform mobile apps and app development. 5G with low latency, high bandwidth, and the density of connections will enable the development of revolutionary apps. related to IoT, augmented reality, virtual reality, connected driverless vehicles, wireless health, etc. Using this power and speed, next-generation apps will do things we never thought possible.
By providing less than a millisecond of latency, 5G is more than twice as fast as 4G. Exciting?
"20% of mobile telecom technology's global market share will be held by 5G in 2025. (Liftoff, 2020)
Breakthrough app ideas of 2022, Leveraging AI, ML, and blockchain technology potential
The use of machine learning (ML) can save significant time when developing apps. While AI and ML can optimize app development, they reduce human intervention too. Apps out there use the potential to incorporate artificial intelligence, including chatbots. Many others customize elements of their customer experiences.
Leveraging AI and blockchain techniques like facial and voice recognition, sentiment analysis for identification and semantic search as well in the future. Delivering high-end security and mobility for your business through industry-specific blockchain development solutions powered by Agile methodologies.
These technologies will continue to drive technological advancements in 2022 and beyond. We can expect to see AI-driven apps on phones and wearables too.
If you need a hand...
Whether a business is a startup, enterprise, or established market player, a mobile application is necessary of late. By now, you should have an understanding of the value and benefit of mobile apps for any business after going through the above startup Ideas.
If you have yet to plan to develop a mobile app for your business, It's never too late. Now is the time to plan it to keep ahead of the competition. To begin your mobile app development project, you need to bring your innovative mobile app idea. Partner it with our highly reputed development team of mobile app development services.
At CodeFencers, We can provide mobile app development services either as a standalone development or as part of an existing web app.