In the business mobile app categories, the Food delivery app has paved the way for the restaurant sector to bloom. Now restaurants can manage staff, orders, sales, customers, and other important aspects using a mobile app. So if you have plans to dive into the online food ordering and delivery business. Believe me, you are in a great place to start from.
According to QSR research, the digital food ordering and delivery industry are expected to reach $365 billion by 2023.
But if you are unsure what features you should keep in a mobile application for your restaurant, you might want to sit down and hear us out. To help you create a recipe for success, we've put together the top restaurant application features to help you explore how adding the latest features would be prudent for your restaurant business.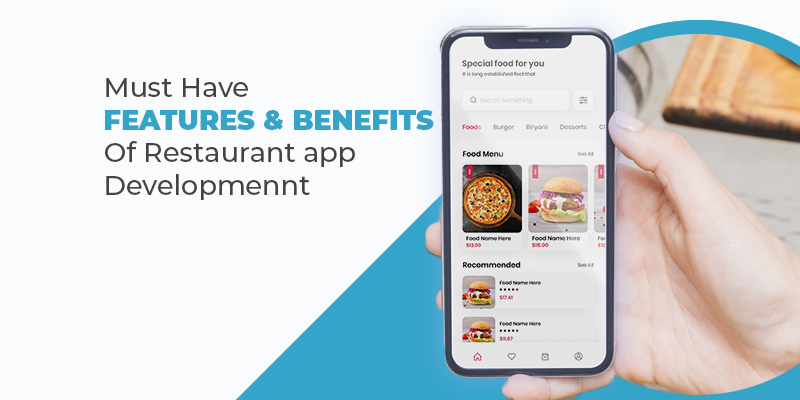 So hold tight, things are getting easier from here,
Table of Contents
Essential features for a restaurant app
Major restaurant application types
Features for the Admin
Features for Restaurant Owners
Features for users
Benefits of restaurant app development


1) Essential Benefits of developing a restaurant app
Apart from custom restaurant apps for food delivery, and web-based food ordering apps. There is a range of restaurant apps functionalities you can invest in. With an opportunity for restaurant owners to capitalize on the growing demand for better, digitized dining, and food delivery experience.
With proven benefits such as:
Brand loyalty and customer engagement
Realtime customer feedback
2) Major restaurant application types
A local restaurant finder
Another type of restaurant review app is a local restaurant locator. These are location-based directories that let you find restaurants nearby (and often help you find your way to them).
A restaurant booking app
A booking app for restaurants allows you to reserve a table at a restaurant right within the app. Implements as one of the features in a custom restaurant app or as a standalone app for restaurant reservations.
A restaurant menu app
Users can access a digital interactive menu from their smartphones using a restaurant menu app. To a great extent, restaurants offer smart tables- with interactive design and preinstalled apps where users can access apps that can personalize the user experience. Includes restaurant menu apps and a review app for admins.
A restaurant delivery app
Delivery apps or restaurant food delivery apps allow restaurants to pre-book the orders. To be available for takeout or get delivered straight to the user's location.
For example, on-demand delivery apps like Zomato, Swiggy, Dominos, etc.
A restaurant review app
In a restaurant review app, you can find a list of nearby restaurants. Find more information about reviewers, and read reviews from those who have visited them.
3) Features for the Admin
Reports and Analytics
Real-time reports and analytics features that help admins to track the restaurant's performance in real-time. Using food ordering and delivery apps. Automated reporting from ready-made dashboards enables accurate and immediate insights to make use of the analytics to make better-informed decisions.
It offers:
Complete end to end performance reports of your menu items and staff
Business intelligence insights to handle common inventory, staff management, and customer management challenges.
Delivery Zone Settings
This feature allows you to assign deliveries location-wise to a particular delivery partner. This will ensure convenient and robust deliveries, which will help your food business grow in popularity.
Delivery Tracking
With the delivery tracking food delivery app feature, the food delivery startup admin can know the food delivery location at any point in time.
Customer Management
The customer management feature of an on-demand app for food delivery oversees all aspects of customer experience, such as easy signup, member history/profile, and account details.
Site Settings
This feature of a restaurant admin app allows you to design the general look and data that is necessary for your websites such as site name, logo, and much more. Thus, this admin panel feature makes it easier for you to design a website that suits your business needs.
Category Management
Manage categories or product characteristics to sell the food item of any range or quantity.
Manage & Add New Restaurant
You may now incorporate user contact information, restaurant information, open and close times, minimum order, delivery charge, commission, and invoice period, as well as create offers for them.
4) Features for Restaurant Owners
Thanks to mobile apps, the lives of both the restaurant owner and customers are now much easier. With evolving mobile app development it's time you can boost your business in the mobile era through essential food delivery app features designed specifically for restaurant owners.
We bring you the top 10 features for your restaurant management mobile app
Staff management
A successful restaurant owner understands the importance of tools to manage restaurant staff efficiently. While keeping them productive, motivated, informed. From functions to help recruit the best staff to schedule and track their performance at the workplace. These tools offer different modules for your different needs to manage and create reports on their schedules, shift swap requests, paychecks, their days off, and overtime.
Menu Management
Menu management features in online food ordering apps are quickly making an impact on food service establishments. That can be integrated with your existing POS software and inventory that allows foodservice professionals to develop or reformat recipes. Also, help in determining food item types and menu pricing with integration with billing module for all labeling requirements. With real-time automated reporting and analytics features, each menu item can be tracked based on performance and popularity.
Kitchen management
Most restaurant businesses are now multi-unit and multi-channel. Where automation is an integral part of your restaurant kitchen management tools to manage multichain restaurants. To meet the needs of the best back-of-house (BOH) monitoring tools that make keeping the same quality and services in every kitchen easy butter to slice. You can choose custom restaurant app development for all sizeable requirements. It makes choosing the system that is right for you all the more complicated. Using production planning tools for better cost control and consistency across multiple units while handling reporting and data coming from different sources with centralized access.
Manage your kitchen operations in one complete food delivery app
Recipe Management and Menu Planning
Restaurant Inventory Management
Food Production And Requisitions
Restaurant Chain Management
Sustainable store Operations
Social media integration
Easy social media integration helps you manage all your restaurant social media accounts in one place. To show your human side to your customers. Connect to them, solve their queries, offer discounts, loyalty programs, and manage their feedbacks for better customer experiences. From your phone or laptop, you can plan and schedule posts ahead of time, as well as track social media performance. It works as a social inbox and posting tool for posting, monitoring, and scheduling material on Twitter, Facebook, Instagram, and LinkedIn.
Personalization
Following a customization spree, many restaurants are opting for a model which allows a user to input their recipes and the restaurant prepares and delivers them to them. For studies or jobs, many people live away from home and miss home-cooked meals or food they're familiar with. Developing a powerful food delivery app that allows users to customize their meals by modifying the restaurant menu as per user needs.
In the model, what matters
A fresh pantry with all possible ingredients.
Active staff who can cook all types of food.
A model is perfectly suitable for Millenials and Gen Z users. For example, you can think of Mc Donalds, Burger King, Pizza Hut, Oven Story, etc. In turn, users feel special when they create their personalized food with these companies.
Restaurant Reviews
Users can use food review apps to explore and share their favorite dishes and drinks in town by taking photos, labeling the location, and sharing them within the app as well as on other social media channels. The app also allows users to exchange food-related reviews and experiences. The app also allows users to exchange food-related reviews and experiences. People give recommendations based on various factors, including location, ambiance, service, cost, and food.
Cuisine Management
Managing diverse cuisines in a restaurant is important when catering to a vast population coming from all over. Whether you are running a Multi-cuisine Restaurant, Bar, Bakery, Cafe, Cloud Kitchen, or Delivery Business the highly upgraded features with the POS unit help admins to easily add new cuisines to sell multiple food items irrespective of quantity or range.
Order Management
Online order management features help restaurants to manage all aspects of order size, reject or accept orders, status updates, food preparation status, and delivery. Order management app features also enable you to meet your changing order management requirements and scale the operational processes you need. It provides easy integration to POS restaurant software with a multichannel approach to manage in a comprehensive view of inventory, suppliers, and production facilities to your warehouse and physical retail stores. Successful OMS management drives greater customer success.
Food Items management
A restaurant management app provides the flexibility to add the latest offers and food items into the food ordering app. At its core, inventory management helps restaurants determine how much stock to order and when. Regular and automated tracking of inventory operations to help keep it consistent and improve efficiency to overcome the added challenge of selling perishable food items that need to be turned over quickly before they spoil.
Restaurant open and close timings
You can set your time as you wish or tailor it to fit the specific closing and opening hours for each restaurant.


5) Features for users
Push notifications
The most important factor of the tremendously growing on-demand food ordering app services and development is push notifications. A must add value to the users. This is to enable users to know about certain offerings and receive all kinds of information, including offers, discounts, and location-based messages through in-app push notifications and pop-up ads. In the food app, users can determine how different kinds of notifications appear on their devices. Apps like UberEats, Swiggy, and Zomato have become popular with people due to their amazing services.
In-app, online ordering, and mobile payments
A process of ordering food from a local restaurant or food cooperative through a web page or app. In-app allows customers to place online orders for pickup, curbside, or delivery right from Google search results. Users can get offers, receive discounts, place orders and make payments for food orders within the app.
Users can also incorporate all the payment gateways or mobile wallet app services that are available in the market such as Google Pay, PayPal, Amazon Pay, Credit/Debit Card, online banking, and Cash On Delivery (COD) options.
Loyalty, rewards, and discounts programs
Promoting your food delivery app with coupons and special offers is the best way to attract new users. You should give customers generous discounts frequently to maintain their interest. Increasing brand awareness is as important as attracting potential customers if you want to win brand loyalty. Successful restaurants tend to place more emphasis on reward points as a result.
Location-based services
The restaurant business is a very competitive one. With a food ordering app, restaurants are optimizing delivery through global positioning system (GPS) technology and google maps. LBS services for mobile app-based businesses, provide restaurants the ability to attract potential customers. That also enabled restaurants to engage potential customers by sending messages/notifications to their smartphones when customers enter a defined location or geographic area.
Multiple platforms
As mobile app developers, we realize the importance of going online. Using multiple app development platforms for restaurant app development will not only enhance your business outreach but also benefit your business to cut costs while speeding up the development process with consistency.
When you develop an app, you want everyone to know about it. That could only be achieved if your app was accessible across different platforms (App Store & Play Store). The different avenues to your app make it visible to all users on a different platform, which leads to the app being downloaded and thereby increasing your audience.
Table reservation
With online table reservation features in food ordering app, it is easier for users to know about your restaurant and menu by looking it up online and pre-booking a table. With the table reservation widget on your website, you will start getting more bookings every day with fewer complaints due to laid-out reservation information. Also, opportunities for restaurants to eliminate the no-shows by keeping all of your clients informed about their reservation status with timely following-up with instant email, SMS, and push notifications reminders days or hours before your guests visit. It allows your users to book a table online 24/7.
Chatbots
Relatively a new technology that restaurant owners are gradually embracing with both hands. FYI, Chatbots or AI chatbots are computer programs that can automate and mimic the pre-recorded conversations with app users. To provide information, offers, discounts, follow-ups, basic queries, like answering FAQs. They can work on social media and even, on your website and bring in a lot of repeat business.
"In-app, Online ordering and deliveries have increased by 300% when compared to dine-in traffic since 2014." Thanks to Chatbot.
Customer feedback portal
Managing a restaurant is not as easy as it sounds! It requires restaurant owners to have a keen eye on factors impacting the business and operation of a restaurant for stable and sustainable business growth. Though keeping customers satisfied all the time is vital to ensure customer retention and engagement.
Food delivery app allows you to capture customer feedback through an app is also significant when looking to provide hassle-free customer service. A well-designed restaurant feedback app captures uninterrupted core customer insights and offers vital clues related to customer experience.
Gamification
Gamification is the usage of game concepts in the Online Food Ordering App to reward users for completing tasks. You may also set challenges for your app's users to increase engagement and attract users with loyalty points. Easily redeemable in-app purchases.
Register Profile
To register is the first step a user takes before being introduced to your other services and offers. That makes it crucial to make registration easier, including social media account signing up and signing in alternative. The faster and easier a person registers for your app, the sooner they can start looking for their favorite meal. By registering for the app, users can add their personal information and a delivery address to customize the app.
Search Restaurants
Food delivery app offers users the choice of restaurant they want to order from or helps users to find the best quality foods and services. Top Food ordering apps help users to find and order what they want and from where they want.
Add to Cart
Adding to a cart is one of the important food ordering app features you should consider while developing a mobile app. With the add to cart feature, mobile app users can add the items to the cart and simply place their order in one go. No need to place orders more than once for every menu item.
Real-time Tracking
Food application's tracking features allow users and admins to track the progress of their orders. With the accurate location of delivery personnel in real-time. This is a great way to ensure that their order is safe and will reach them on time to make the waiting time less annoying for the app users.
Schedule the orders
Customers may want to add their favorite food items to the cart after searching for them. Scheduling features assist users to place multiple orders at once. And receive term as per the schedule.
6) Benefits of restaurant app development
A restaurant's mobile application is one of the most crucial factors in bringing in more business or consumers. But there could be numerous aspects to consider while developing a mobile app.
At last, presenting the most common benefits of developing a mobile app for food delivery. To consider at the time of your food delivery app development.


Increase in sales
In the digital era, the ever-growing smartphone popularity around the world makes mobile applications crucial to managing your food business successfully. Nowadays, consumers want information on products or services, or companies instantly. Businesses that have realized the power of a stronger online presence. Are getting benefitted from increased customer engagement that leads to improved business sales.
Brand loyalty and customer engagement
Restaurant mobile app development is a hot topic among customers today, thanks to mobile device users searching for restaurants, every time they crave their favorite dishes. Food ordering app users spend more when they order through an app as they have more time to make a decision. Provides restaurants to handle orders with more accuracy and increase their productivity. The best quality services and food can be converted into brand loyalty with few add-ons. Loyalty programs help restaurants to retain customers and do more repeat business.
Easy payment processing
Along with making life easier for consumers, food ordering mobile apps are a host of many benefits for users and restaurateurs. Payments through mobile apps and mobile wallets enable customers to pay for products and services through the most convenient, fast, and popular payment alternatives available. Apps like Google Pay and Apple Pay, Phonepe, Amazon Pay are some of the most popular examples.
An effective way to get customer feedback
Customers prefer to use their mobile devices to place orders. A positive engagement in your business will be sparked by a flawless mobile experience, which may be bolstered by client reviews and ratings. You can reward your users for giving you favorable feedback, and when you get bad input, fix the problem. A prompt response can easily resolve the majority of these negative feedbacks.
What's left (Conclusion)
The online food business has a large market, so it is important to have compelling functionalities to sustain. Food and restaurant app features that are advanced and ready to meet the needs of modern-day customers, will help you develop your business and achieve great profits.
But the real thing is the value you can provide to your customers and restaurant with the best app development features and services following a profound impact of digitization.
As I said earlier. Food delivery apps have paved the way for the food sector to bloom.