We can all recall those times when having a mobile phone was considered to be a luxury. Cut to 2021, it has now become a basic need. Mobile phones have certainly witnessed an immense transformation in the last few decades. We are already noticing how smartphones are replacing laptops and hence it is no wonder mobile app developers are in such high demand.
The mobile industry is at its peak right now, and the emergence of innovative apps have played a major role in this success. As per Statista; In 2019, 1.83 million apps were available for download on the Apple App Store & over 2 million apps on the Google Play store. By 2023, mobile apps are projected to generate over 9935 billion U.S. dollars through paid downloads and in-app advertising.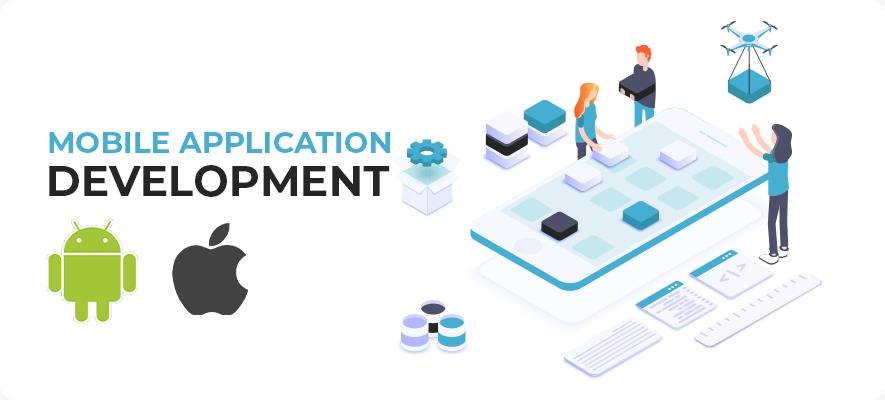 Companies are keeping themselves relevant by making the best mobile application development solutions. In the arena of tech field, mobile application development clearly represents one an unprecedented frontier for businesses to incorporate cutting-edge technologies like artificial intelligence.
The current pandemic situation has forced companies to go digital for surviving in such tough times. It has created numerous opportunities for start-ups & mobile app development companies to enter e-commerce, healthcare, finance and other industries. Mobile app development companies have been stunned with the revelation that 90% of people utilize their internet for browsing through multiple apps. Bill Gates very rightly said; "If your business is not on the internet your business will be out of business."
In the current scenario, mobile app development agencies are in full demand to developing an android or iOs mobile application for start-ups as per the latest mobile app trends. The future of mobile applications looks promising!
Let us go through some of the top mobile app development trends for the year 2021 and beyond.
1. Role of Artificial Intelligence or Machine Learning
In today's era, it is very hard to talk about technology without artificial intelligence or AI, entering into the conversation. It has been completely influencing our lives even though we may not be aware of it.
According to Statista, The AI industry is expected to reach 126 billion U.S. dollars by 2025.
The integration of mobile apps with AI has resulted in improved user engagement and helped a lot of companies to save budget by automating the routine tasks. One can witness many examples of AI around us - from self-driven cars to chess-playing computers – all rely heavily on deep human learning and language processing. An interesting everyday example of machine learning is when you check your mail, they get automatically sorted into social, public, private and so on. The machine mind chooses the best possible website according to your search and the choice of keywords use and gives you the best websites as per your search. Other AI applications including virtual personal assistants such as Siri and Alexa and predictive traffic navigation apps belong to this subset of AI.
The amalgamation of machine learning and artificial intelligence is very crucial for custom mobile app development. In the immediate future, AI is looking like the next big thing.
2. On-demand app development
On-Demand apps are playing a revolutionary role in impacting the future mobile application trends. Since smartphones have become so handy, most people prefer getting their preferences delivered at the click of one button. Traditional ways of shopping are supposedly taking a back seat.
This business model has been in trend for some years now with services like Zomato, Swiggy, Uber and Air-Bnb taking the industry by storm. Our lives have been made simpler as such apps enable the procurement of any product or service at the desired location. The on-demand app development companies have become quite prevalent for home services, food & grocery delivery and healthcare & pharmaceutical.
The on-demand app development industry is expected to grow exponentially in the time to come. As per statistics of Harvard Business Report, $57.6 billion each year was spent by consumers on the on-demand apps. By 2025, the on-demand market revenue is projected to reach $335 billion.
3. Beacon Technology
Beacon Technology is one of the top trends of mobile apps development. It is emerging as an important tool in location tagging and proximity marketing. The technology aims to connect users with services or retailers through their live location. Beacon mobile application technology can help in various sectors like hotels, emergency services, healthcare, retailers, etc.
Beacons are very small wireless transmitters that use low-energy Bluetooth devices to transmit the signal to other devices. This technology uses location-based searching to provide personalized service to customers.
It allows developers to easily track the location of the apps/devices using beacons and communicate by sending special app-specific messages and notifications to those apps within range of these beacons. Businesses can now push real-time offers and discounts to target audience who are nearby. Moreover, it will help expand the customer base and design clear target mapping.
4. Flutter app development
Powered by Google, Flutter is a mobile app framework to build flexible, native-like and graphically-enhanced cross-platform app development The layered architecture ensures a faster rendering of components. Flutter app development is growing in popularity because of its ability to craft expressive ready-made widgets, testing and integration APIs, command-line tools, and a rendering engine.
Flutter is enabling developers to build cross-platform apps for either Android or iOS and allowing easy learning with high-quality documentation. Flutter has the power to support small, medium as well as large enterprise projects.
5. Boost in Cloud-Based Mobile Apps
Cloud based mobile app technology has a lot of possibilities and perks. This allows the flexibility to access and store data more securely and quickly. It is also a very cost-efficient method since it does not require physical hard drives to store the server data.
The integration of cloud technology can be used to save the cost of mobile app development and provide better customer experience.
The main advantage of cloud-based apps is that they can work on every platform. One has the freedom to conduct app designing operations to cater to a significantly extensive target audience. This means that one does not need to focus on a niche customer segment while building platform-specific apps.
As per the current trends, we can be sure to have many cloud-integrated mobile apps in years to come.
6. Blockchain Technology
Blockchain technology is claimed to be a building block of mobile apps in the near future. It is believed to completely revolutionise the way to store transactional data. It will be used where more than two parties need to share, control & record the data. With the help of blockchain, anything of value can be tracked and traded on this network. It allows members to share a single view of the correct data, view all details end-to-end & maintain transparency.
Blockchain is already being used as the very foundation to protect cryptocurrency data from getting tracked. Moreover, in future, we will see blockchain becoming the backbone of data accessed by mobile apps.
7. Wearable Devices Integration with Applications
The sensor-fitted wearable devices are witnessing a big buzz in the tech market. For today millennials, fit bits and smartwatches have become more like their possession of pride.
The rising admiration of such devices has fuelled the demand of app developers. Businesses are spending huge chunk of budget to hire mobile app developers that understand that wearable apps development. Such app working demands a different design approach due to the smaller screen size, real time responsiveness, synched sensors and connectivity with the human body movements.
Companies from different verticals are embracing these apps as they bring the benefits of enhanced productivity, streamlined operations, optimal use of resources, and improved customer services.
Wearables such as healthcare monitors and smartwatches have seen explosive growth in the past few years and are expected to continue their market expansion in the years to come.
The Global Wearable Devices Market is expected to be around US$ 95.40 Billion by 2026 at a CAGR of 16.43%.
8. Live Event streaming
The current pandemic brought the world to a standstill and forced people to maintain social distancing. All meetings and events were pushed to go online. Companies resorted to conducting their meetings and events on various live streaming platforms. This sudden shift surely led to an increase in viewing time of people staying online.
It has led to development of customer centric apps with some exceptional functionalities such as allowing people to interact between the events via ChatBox or the ability to ask live questions directly to the panellist.
This habit of watching on-demand streams is expected to stick with viewers and continue to be part of their future. Whether it was content creating or consuming it, streaming of content became a prime source of entertainment for many during the pandemic.
9. Augmented Reality with Apps
Augmented Reality is one of the most trending immersive technologies that is used to enhance real -world natural environment or situations and offer enriched and visually empowered experiences.
Apps utilizing this technology are becoming quite a craze among youth due to their computer-generated visually appealing characteristics. Implementation of this seamless technological innovation can be seen in gaming and photography related apps that use virtual elements to provide an interactive experience to its customers.
The application of this advancement can be witnessed in different sectors of education, communication, medicine, and entertainment. As a result, iPhone App Store and Google Play Store are full of AR enabled apps and expected to become an even bigger part of our future.
10. Hype of 5G Technology
2020 was an year that made many industries come to a standstill. As the pandemic slowly spread across different countries of the world, it was telecom network industry and other technology services that helped people stay connected.
4G networks managed to become a catalyst in keeping the global economy going amidst widespread lockdowns. It led to the development of live streaming video and music platforms as internet bandwidths increased. Likewise, 5G is expected to open new doors of opportunities.
The fifth-generation global wireless technology (5G) is going to be a life-changing experience for users. It is expected to be 100 times faster than 4G networks, with speed reaching 100 Gbps.
The 5G communication will help in increasing the speed of mobile connections and provide quick access to information. It will become a great boon for services like augmented reality, virtual reality and video streaming that rely heavily on advanced technologies.
While much of the hype has been about 5G largely improving the consumer space, the modern cellular technology will completely transform our way of doing business. App developers can leverage 5G to create features and designs that improve business performance. The need for high-speed internet and smart cities have made 5G communication technology and infrastructure relevant.
5G is expected to explore new technological territories and features to transform enterprises.