2020 has been a remarkable year for augmented reality and virtual reality. From business applications to gaming usage, these robust technologies have an optimal effect on several industries. The onset of COVID-19 has majorly induced these technologies ratification as most businesses switched to remote work configuration or work from home. The access to applications of augmented reality and virtual reality facilitates businesses and individuals to socialize, work and communicate with others as these technologies can generate an enormous simulation environment.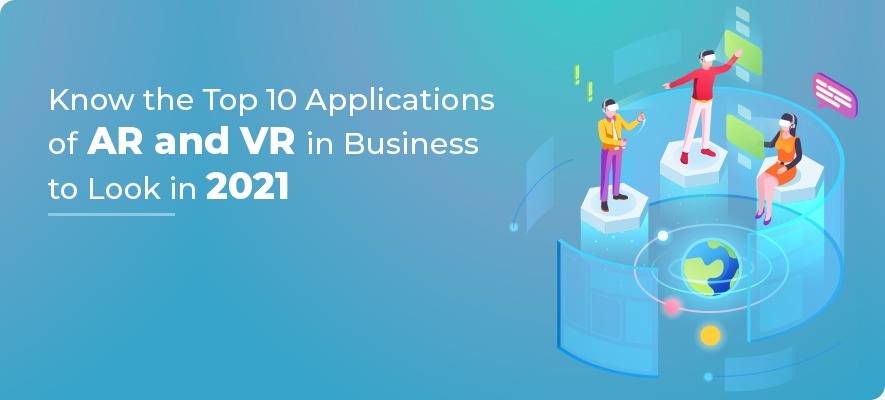 Virtual reality applications are not limited to gaming but are also used in several industries including Marketing & Advertising, Tourism, Healthcare, Retail, Real Estate, Education, etc. The valuation from augmented reality and virtual reality applications to your business offers an array of benefits including a reduction in investment, enhanced business operations, getting more ROI, and having an edge over your competitors. In this blog, we have listed the top 10 applications of augmented reality and virtual reality marketing in Business to keep an eye on.
Find Out the Differences Between Virtual Reality (VR) and Augmented Reality (AR)
Virtual Reality (VR) is a substitution of your vision and involvement with a custom-built world generated to simulation circumstances for several purposes such as gaming, business-oriented, entertainment purposes, etc. Augmented Reality (AR) is summing digital items' perception to real-world situations initiating from easy input visualization to comprehensive inputs. Beneath, we have listed the major differences between augmented reality and virtual reality:
A user can experience virtual reality with affordable headsets whereas, augmented reality applications can be accessed via smartphones.
Virtual Reality uses a virtual setting whereas Augmented Reality accesses a real-world framework.
Virtual Reality (VR) will only improve a fictional reality, while Augmented Reality (AR) will enhance both the real-world and virtual environment.
Users of AR can monitor their presence in the real world, VR users are handled by the system.
Discover the Top 10 Applications of AR and VR in Business to Look For in 2021
Let us have a look at the top 10 AR and VR applications in business opportunities:
Retail and Online Shopping
With the use of VR, an individual can finish the transaction without leaving the comfort of their home and complete all the required steps to finish buying the products. Virtual Reality can easily facilitate a personalized shopping experience by making virtual stores for their clients where they can navigate the entire store with their VR headset. The use of VR applications in retail and online shopping has changed the game as the clients can explore the diverse range of products and examine each product prior to making the payment from their home. We are listing some businesses that have benefited from the use of AR and VR:
Showrooms for various products and cars can be easily generated in the virtual world to enable examining several products and eradicate the feasibility of acquisition of incompetent products without stepping out of your home.
The real estate sector has availed of the benefits of the use of VR applications as their potential clients can explore the listings virtually and examine the location without commuting and exploring several listings until they find the perfect one.
Training staff can be a daunting task, however, with the use of VR technology, now companies can train their staff by simply simulating real experiences and situations.
Retailers and online shopping stores that are using VR and AR are well-equipped to evolve customer behavior. VR and AR provide a comprehensive shopping experience to clients that facilitate them to make the right and informed decisions while saving their precious time and keeping them safe during the pandemic.
Manufacturing and Engineering Projects
Full-scale models are a prevailing expensive element of manufacturing and engineering projects that can be easily switched with the use of Virtual reality applications that are more affordable to review the project efficiency in the designing phase prior to initiating the main manufacturing project. 3D techniques and tools are combined with virtual reality engineering applications to offer a detailed analysis of projects and examination for phases to modify or design errors.
Augmented Reality can enable and stimulate processes at various factories. It also facilitates engineers to exhibit construction sites and models and share their perceptions. AR tools enable its users to keep track of the work in progress and with digital plans save time. With the use of AR and VR in manufacturing and engineering projects, an individual can benefit themselves by avoiding working in dangerous conditions.
Tourism Industry
Virtual Tours are quite popular and a phenomenal way to make your potential visitors have a virtual experience of exploring landscapes, popular locations, popular places, etc., and let them know how enjoyable the whole experience will be. Resorts and hotels can also have an advantage with the use of virtual reality by making a virtual experience of how clients will be greeted and served. Encourage your potential clients by virtually showing them your property and how well trained your staff is. Similarly, the transportation industry can encourage passengers and give them an experience of how comfortable their services are.
AR and VR experiences highlighting 3D videos of diverse locations can empower the tourism industry to allure customers to finalize the trip. Individual entrepreneurs or tourism companies can use AR and VR for easy navigation and showcasing popular tourist attractions. Give them a virtual tour with the use of AR and VR tools.
Collaboration and Communication
Remote jobs are rapidly growing which is advantageous as it saves effort and time and also increases productivity. However, the main issue with remote jobs is that a company should have effective and robust tools and methods for collaboration and communication as a company cannot solely rely on ordinary voice or video calling options. With the help of VR and AR, employees can increase their productivity and easily collaborate and communicate.
Virtual reality enables employees to easily collaborate and communicate in a virtual space without physically commuting and wasting time. The virtual workspace will help employees to boost productivity while reducing the expenses of hiring a workspace for employees. It also helps to eradicate the barriers and allows employees to attend conferences virtually. Visualization is imperative for any project irrespective of the industry. With the use of AR, individuals can benefit themselves as it is ideal for presenting data by laying it in a visual context.
Training Applications
Training employees can be a challenging task for any organization, however, by using augmented reality and virtual reality equipment in training applications, any organization can simplify the process. Lower the potential risks involved with the training process, reduce the expenses involved in training applications, and make it easier for the employees to understand it. Training your staff can be a costly process if an employee makes a mistake during the process, however, with the use of AR and VR tools, minimize the risks involved.
By accessing Virtual Reality technology, a company can train its employees by simulating real-world situations and the environment. Employees can be trained on how to calm down an unsatisfied or angry client or show a store to a new employee to assess their leadership capabilities, soft skills, and decision-making qualities. With the use of both AR and VR, an organization can make a more efficient and useful training environment while lowering the expenses on the training program significantly.
Architecture and Interior Design
Architects and interior designers are empowered with the use of AR and VR tools to showcase their ideas and designs to their clients. It helps them attract more clientele and give a detailed presentation of their ideas. It facilitates them to allow their customers to show renovation and building projects in detail prior to finalizing the designs and starting the operations. Any type of construction operation will definitely benefit from the use of augmented reality and virtual reality equipment as they can reevaluate vital factors such as errors in design, safety precautions, costing, testing the construction project, etc.
With the use of both VR and AR, Interior designs can be enhanced as you can help your clients get a virtual walk-through experience. By using augmented reality tools, any interior designer can benefit as it helps them with landscaping. With a virtual experience, it will become easier to convince your potential clients and turn them into conversions. Nowadays, many regular showrooms are switching to virtual showrooms as it saves clients time and helps them make an informed decisions. Without stepping out of your comfort and wasting your efforts, you can check out any furniture store and finalize the interior design.
Healthcare
The healthcare industry is another sector that has benefitted from the use of both VR and AR applications as medical employees including a nurse, surgeons, doctors, etc. can be trained for severe or life-threatening situations through a customized virtual approach to enhance the skills and manage an emergency situation more effectively. Many lives can be saved and be prepared in an emergency situation.
Many health issues like psychological disorders can be treated with virtual reality applications or in any other situation. You can well-prepare your patients for how to face a situation in a detailed way and help them overcome their fears and be more confident and calm in extreme situations.
Marketing and Advertising
Traditional advertising and marketing are nowadays less attractive and convincing as clients now require more persuasion. With the use of AR and VR applications, you can boost revenue and clients. Using these tools can help you have an edge over your competitors and stand out.
Using augmented reality creatively can boost client relationships while boosting revenue. Engaging content encourages clients to use a brand's or business application daily. Engaging AR experiences can attract more customers and give you a chance to stay in the lead. VR promotional videos can also be a creative technique to get more engagement, leads, and conversions. You can offer a virtual experience about your products or services and satisfy your clients by matching their requirements.
Education
AR and VR can provide physical and psychological experiences through real-world simulations. The robust technologies bring unparalleled possibilities for learning and teaching. Enrich the learning experience for both students and teachers with virtual reality and augmented reality applications. Both students and teachers from across the globe can connect and boost their productivity to existing e-learning options.
With the help of AR technology, schooling can be more engaging, efficient, and interactive. With the use of augmented reality applications, students can examine a 3D galaxy and view an extinct animal. Virtual reality aids students to witness major scientific developments and discoveries made in a virtual lab.
Entertainment and Sports
VR applications were initially used in the entertainment and gaming industry, however, with time, it expanded to several sectors and is still evolving. Both AR and VR enhance the experience of a user in the entertainment and sports field by using 3D objects. Athletes' performance can be improved with VR as it stimulates the training program with customized options to boost and improve skills. Sports players playing American football and basketball can improve their performance with these applications.
An individual playing VR games will be more fitter and will lose weight as these games are developed to enable the use of their body while playing the game. With the use of augmented reality, a sports fan can get more insight and valuable details. Investing in AR and VR equipment will boost more clientele and revenue.
This blog mentions the top 10 applications of both AR and VR in different sectors that you must keep an eye on in 2021. AR and VR have both revolutionized this fast-paced world and are transforming the way an organization or individual world and interact with colleagues and clients. Both the applications of augmented reality and virtual reality are increasingly accessed in education, marketing, gaming, healthcare industries, etc. Both augmented reality and virtual reality have a major marketing potential that we need to still unlock.